DarcyF1 News
PHP 7 + HTML 5 = Bugs
Sorry for the big bugs present recently. The massive overhaul to get the site up to modern web standards caused some ancient and terrible code to rear its ugly head.
Good news is that some eagle-eyes members have been quick to point me in the direction of faults that I have been squashing. The delay in alerting you to this was due the Add News function being one of those broken pieces of code, d'oh!

Messages, Forum posts and video Comments weren't formatted correctly - fixed!

Pop-over boxes not displaying or empty - fixed.

Numerous other tiny bugs being fixed constantly. I still have some cosmetic touch ups to do, but restoring functionality is always my number 1 priority! Thank you for your patience, and I hope that you all enjoyed the Open Archives weekend event. The participation was encouraging, so I hope to do another one soon!

As always, report all bugs you find!
---
Open Archives Weekend
This weekend is a very quiet weekend of international motor sport. To help you find something to watch, we're opening up the DarcyF1 Archvies.

DarcyF1 Archives now contain over 1TB of content. This weekend, all members will have complete access to the Archives without the need to spend points.

This zero-point Archives access will run from 09:00 Friday 21st July, through to 09:00 Monday 24th July, GMT+10.

Put it in your calendars, favourite some Archived videos and come back over the weekend to download as much as you want.

If you're not a member, sign up to access this content, and to unlock further site features and thousands more videos.
---
HTML5, Bug Hunting and New Features
Registration issues have now been resolved. There were a small amount of users who were contacted individually to resolve issues they encountered while registering. Any further issues should be reported.
Multi-use invite codes have been enabled, allowing better promotion opportunities. If you have a group of people you'd like to invite to DarcyF1 and would like a multi-use code created, please contact admin via Messages. Coming soon are promo codes for existing members to unlock rewards.
Operating a site that was built on technologies that were standard in 2009, it's evident that as standards develop, the site had fallen behind. Poor standards lead to modern browsers displaying the site incorrectly in certain situations. I have been working hard over the past month to update the entire site to current standards. Around 40,000 lines of code have been updated to bring the website up to HTML5 standards. I estimate that I'm about 90% of the way there. 99% of the most visited pages are now up-to-date. Having so much code change has let a few bugs slip in, so thank you to those who find them and report them. There are some changes that are necessary to complete this work including the complete retirement of the Java uploader, and a change in pop-over message boxes. These two changes will be obvious, but unavoidable. If you have any questions, or notice any bugs during the standards update, please get in touch via Messages.
Forums have been receiving a big update lately to make it simpler to browse and to enable future feature development. There will be more information in this space soon, but you will already find some cosmetic improvements.
There was a significant bug introduced in the collector card system a month ago which resulted in many display issues and some minor, repairable collection issues. Users who managed to collect more than 9 of a given card have had those extra cards revoked. The reason this bug came to life was updating of the trading system, work which is now nearing completion. The updates allow you to visit the Trade Maker page, search for a user and view their duplicate cards and your duplicate cards to find a potential trade. You can click on these cards to start building up a trade option right there.
The menu system on DarcyF1 also received a re-organisation and cosmetic update to better match the most popular items that users click on.
---
Say Thanks - just one click
Around half the comments posted on DarcyF1 videos are thanking the uploader for their effort in uploading a video. In order to make this easier and rewarding for the thanker and the uploader, a new feature has been launched.

Known as 'Say Thanks' and represented by the orange thumbs up icon, users can now click the Say Thanks button to instantly post their personal thank you message. Users can configure their own personal thank you message on their Edit Preferences page.

When a user decides to Say Thanks, the uploader is awarded XP and a Point, the thanker is also awarded with XP.

Thanks messages are collated and displayed below regular comments on video pages.

Users who leave regular comments are now awarded 10XP per comment, up from 5. This will really help new members accelerate through the early levels to unlock more features around the site.

Uploaders will not receive Messages to inform them when a 'Thanks' is added to their video.

As always, feedback welcome and encouraged! Alos, we're always seeking new suggestions!
---
More Fixes and new ways to use your points
The way that users can view their points history is now cleaner and easier to understand and a lot of error conditions have been accounted for. New uses for points are correctly displayed. One of those new uses for points is to unlock extra collector card booster packs. Additionally, more work has been done to ensure monthly points top-ups are working 100%, you will see these in your Points History.

Videos displayed on the Home Page will now error gracefully when a thumbnail is still being generated. Previously this has pushed the majority of the content off the page.

Archived videos access has been rewritten to reduce errors. Continue to report bugs if you find them.

Collector card information has had a rewrite after some frequent questions of late. Also the card display page, when browsing from the gallery, has had a rejig to fit in more information, including a clearer explanation of the rarity.

The random video page now runs a lot faster! It is the most popular single page on the site and it used to take up to 7 attempts to find a random video for you. It will now find that video on the first attempt and is more directed such that it provides content from the more popular videos on the site.

The Edit Preferences page has now been updated so that all members have access to change the site's theme. In fact, new users will now default to the newer 'Grey & Orange' theme instead of the original 'Bright White' theme.

There was a significant fault in the way that the site was expiring account bans. Nearly all banned users whose bans should have expired did not. I have now corrected this, and all bans are now up-to-date. This work included further refinement to the inactive account clean up process. User accounts that have not been used for 3 months will receive a warning that their account will be deleted in one week if it has not been used. That email will now definitely be the only reminder, and also include a 'what you have missed' section to combat a lot of users who rely on the 'there was no motorsport over winter' reason, despite we saw almost 3,000 videos added during those 3 months.

DarcyF1 TV was made non-functional by a caching change. This change has been reverted and DarcyF1 TV can now be found on the Live Streams page, available 24/7 to let you watch non-stop motorsport content. The schedule is now dynamic, allowing new content to automatically be added to the line-up month-to-month.

As always, it is YOUR feedback and suggestions that make a lot of the above happen – please keep it coming in!
---
Fixes and Archives
Supercars tipping has been adjusted to account for wildcard entrants. The 'drivers who finish on the lead lap' option will now calculate the correct number of entrants and give that as the highest option, instead of the previously hard-coded 26.
Over 1TB of videos are now available in the DarcyF1 Archives. To help members access the archives, DarcyF1 Happy Hours will now include zero-point access to archived videos. Keep an eye on @darcyf1 on twitter to get alerts when Happy Hours go live, and watch for when the banner lights up to denote it. More information about the DarcyF1 archives can be found on the Information pages, under the DarcyF1 menu.
Additionally, it appears that the Search function was defaulting to ordering results by least amount of Downloads.. this was a significant fault, and has been corrected under most circumstances.. still a few more bugs to iron out.

As always, report bugs, give feedback and ideas and DarcyF1 will continue to improve for you! Thank you all for your continued patronage of this ever-growing website.
---
Still away
A reminder to all, I am on holidays and am only periodically checking the site, admin and moderation tasks will be delayed. Further details are in the preceding news article.
---
Taking a Break
I will be taking a rare break and will be away on holidays until May. As such some administrative tasks and moderation will be delayed. I will not be producing live content during my break, but will re-cap any events that occur upon my return if no one else has covered them.

Cheers
---
2017 Supercars
Quick note that that DarcyF1 has moved to the naming convention of 'Supercars' for the category previously known as V8Supercars and 'Super2' from DunlopV8Supercars to reflect the series' current titles.

In addition, V8 Tipping is now VASC Tipping to reflect the preferred abbreviation of the series title.
---
Firefox Video Player
The video player now works for Firefox users. Due to the way that Firefox sends requests headers, this has been broken for quite some time. After days of trial and error, this now works across the site and have confirmed no issues in Chrome, IE & Edge. If your browser of choice is still having issues, please click the Report Problem link at the bottom of the page.
---
Tipping winners
Another year is over, and two Tipping championships have been won.

Prizes have been awarded as such.
F1 Tipping
1st: Exclusive collector card + 1000 XP
2nd: Exclusive collector card + 500 XP
3rd: Exclusive collector card + 200 XP

V8 Tipping
1st: 3 Booster Packs + 1000 XP
2nd: 2 Booster Packs + 500 XP
3rd: 1 Booster Pack + 200 XP

And the winners are (1st, 2nd, 3rd)

F1
Montoya42, Lucasjeha, Jeroen

V8SC
Montoya42, haggishunter, Bloopy

Congratulations to all and we'll see you again next year for another tight race to the finish!
---
Thumbnail Creation
My ancient thumbnail creation script decided to run wild and break the server by creating a 400GB error log. I have been forced to upgrade the script to a newer video tools library which I have now done, and tested.
If you find any errors when creating thumbnails please report them immediately via Messages to admin.
---
Exclusive BETA Feature
Are you a member? Are you logged in? Are you at least Rank 5? You're invited to try a new feature at DarcyF1. You can opt out any time that you like. Start the adventure here and report all issues you encounter to admin.
---
Cosmetic Changes
If you're logged in, you will have probably already noticed that your XP is now displaying as a progress bar. This is in response to feedback I regularly receive that members are not aware of how many more XP are required to level up.
To account for this, as well as fixing a display issue for members with longer usernames, the search bar now adjusts it's length to accommodate other content in the header. Longer usernames, as well as turning on Delay Results Spoilers will shorten the search bar accordingly.
Your XP progress bar also states your current rank or Level (abbreviated as Lv.) and will display in green when you earn XP and inform you how much you've earned.

Also, the DarcyF1 News section on the home page (probably where you're reading this right now) will not display at all, unless there is recent news. Previously it would say that there was no news and link to the twitter feed. Since the twitter link is already in the menus (and has been for ages), I have removed this waste of pixels to bring your home page content closer to the top.

Video browsing has been modified slightly. Video title font is larger, and you also get the flag representation of the commentary on the video (it was previously text). If you're using the search function, videos will list where they are categorised on the site to help provide context to the clip.
Finally, I have written some code to help identify which videos will play on in your browser, and which videos can be only be viewed using a media player application; "download only"; or either! Look out this under video titles across the site, but note there are some generalisations in there at the moment that I cannot easily overcome, so this information is not always 100% accurate but should help a majority of the time.
---
Download Page Changes
As I develop functionality on DarcyF1, I tend to add features bit by bit without assessing the impact on the page as a whole. A good example of this was the Download page, a complete mess of a page, with things chunked up in a way that looks like a completely different coding team worked on their own little bit and threw it together at the end without any consultation.

Because of that, I have re-written a lot of the page to flow nicer. Gone are the blue chunks, the green chunks, the features that showed even if there was nothing to show, mis-aligned elements etc.

Some of these changes might not appear to be much, given what video content is available, or your access rights, but take it from someone who sees everything all the time, there has been a lot of tidying! There are some aspects that either come from other areas of the site, or will influence the way other areas of the site appear.

In no particular order;
Information message boxes are now bordered with blue, but not filled with blue.
Full races (qual, prac sessions etc) are now titled in Purple - like they are when browsing video lists.
Commentor user information is reduced and comment font sizing is increased.
Related videos are slightly bigger, and correctly aligned (in good web browsers - I don't want to hear about Internet Explorer <10).
The ability to download the lower quality version of videos has been removed - very rarely utilised.
The ability to spawn a forum thread from the download page removed - used twice in all of history, one of those times was me.
---
Search Restricted to Members Only
I have been spending too much time dealing with site abuse of late, most of which has been attempted through the search function.
As such, I have now restricted the search function to logged in members.
Non-members can still browse one page of search results from recent search tags - via the search page. However, to browse multiple pages or perform custom searches, you must be logged in.

Non-members will see other small cosmetic changes around the site to accommodate this change.

P.S. I have been made aware of the fact that the newest version of the Firefox web browser does not function correctly with the website - working on it.
---
F1 Tipping Abuse
Unfortunately, the change away from Summer time right on the start of qualifying meant the F1 Tipping lock out did not perform correctly. As such, members who abused this as edited their tips after qualifying started - and obviously those who changed their tips to the actual results after qualifying have had their tips for the round removed.
---
NEW - Onboard Laps
Check out the videos menu, you will find the newest DarcyF1 feature. This new feature, Onboard Laps let's you browse over 1200 onboard laps. This extensive list of onboard laps is curated by site administrators to ensure that only videos that belong are included.

Onboard Laps lets you search by driver, by track, or by year. For example, search by track and select Albert Park, then search by year and select 1996, and you can see how the track looked in it's original race! Have a favourite driver? Search by their name and see each track, over each year they raced where an onboard lap is available.

Uploaders, name your videos accurately and they will appear for admins to add to this feature. Ideally, your video title should include the words ONBOARD and LAP to be presented for inclusion.

Do you have some onboard laps in your collection that you think would make a great addition? Get uploading now and let's grow this beast to be as conclusive as possible!

As always, your feedback is much appreciated!
---
Bugs, Cosmetics & Features
V8 Tipping starts tomorrow! If you like it, get involved! The success of this year's competition will determine if it is run again in 2017.
Because of a logic issue, the non-championship round at Albert Park will not be part of the tipping competition.
There was a further bug that meant that users had to participate in both F1 & V8 Tipping, or neither. This has now been corrected, so you can participate in just one.

Resolving those reported issues I noticed that for apparently a long time, the auto-response generated when a report was closed was often incorrect. Linking to unrelated videos, or missing the admin response etc. This has now been corrected also.

You'll also notice some cosmetic changes of late.
Donation bar is slightly better aligned to the page, and is orange, as not to stand out from the rest of the site's colour range. The donation limit has also been adjusted to reflect a pricing change from the web host, it's gone down!

The pop-over box you see occasionally is now larger, to display more information. I am aware that some alignments that assumed the original size are now a little dodgy - I will get to that.

The download, error, favourite etc. buttons on the Download page are now quite different. After running the old buttons for 5 years, they remained the biggest barrier to people understanding how to use these features. So they're bigger, bolder and consistent with each other.

You'll also notice many members wearing banners. The latest way to show off your achievements around the website. Some of these achievements are new, some banners have replaced collector cards, and some have replaced stars that used to exist on profiles.
There are more banners to come, plus an alerting system so you know when you've unlocked a new banner!

Finally, a big change has been made that means non-members can now watch hosted videos. Previously, non-members were restricted to accessing embedded videos hosted elsewhere. Now that they can watch many hosted videos, signing up for a membership will give them access to hosted videos that aren't converted to flash (and available to watch online), such as full races. And once they rank up, all video restrictions will be removed.

Still to come, 2016 motorsport collector card collections. Many F1 & V8 Tipping round cutoff times need to be updated also.

Plus, anything you guys keep suggesting and requesting! That's how I decide what to put my limited time towards.
---
@admin introduces twitter-style tags
When this site was built BB forums were all the rage, and as such there are little chunks of BBcode-like things on the site. One of these was tagging of users in comments. After many, MANY requests to be able to tag people like you can on twitter and facebook and instagram and any website built in the last 12 years, you can now, FINALLY tag users using the @ symbol immediately prior to their name. Just like this @admin - amazing!

There won't be any fancy auto-complete or validation checking of similar, just making it easier for everyone who is already using this method.

Because of the new tagging method, the old style [user] tags have been replaced and removed from the site. Using them will not result in any tagging.

As a result of this change, use pinging has been improved. When you @ mention a user, they will be messaged to alert them automatically.

Finally, as a small bonus feature, if you use @darcyf1, it will link straight to the DarcyF1 twitter feed
---
Twitter Exclusive Videos
This week I will be released a new video every 12 hours that you can only unlock by clicking the exclusive link posted on the @darcyf1 twitter feed.

Ensure you are logged into DarcyF1 before clicking the link from twitter to ensure that your account unlocks the video! You do not need to follow the @darcyf1 twitter feed to unlock videos, but hey, I'd recommend it


As with all exclusive videos, they will unlock for all members at the end of the promotional period.
---
Advent Gifts Event Complete!
Congratulations to the 17 members who have successfully unlocked all of the Advent Gifts and were rewarded with an exclusive reward.
Those members have been notified.
Tomorrow, the Advent Gifts link will change to something new until the end of January 2016.

Did you miss out on some of the Advent Gifts? The videos that were unlocked during the even will be unlocked for all DarcyF1 Members in January.

Thank you to all that took part in the event and I look forward to seeing you all in 2016!
---
Touch Ups and Search Enhancement
When using the Videos > Clips page, you select a category and then a season to find the videos you are after. Now, there is a simple way to browse back to this page while keeping your selections. When viewing the video listing, the title above the videos, such as MotoGP 2015 - Spain, the category and year is now a clickable link, taking you back to where you were browsing and re-display the seasons and rounds.
I will be replicating this to the Videos > Full Races page in the near future.
There have been a dozen display tidy-ups across the Clips and Browse pages too - you hopefully hadn't and won't notice them.

You can now search by commentary language! Check out the search page, you won't miss it. Another great suggestion by a DarcyF1 member, so if you too have some ideas, feedback or questions, please don't hesitate to get in touch!
---
Advent Gifts - December Only
The Advent Gifts event is now live! Check it out now and don't miss out!
---
F1 Tipping 2015 Winners Crowned
Congratulations to Montoya32 who is the winner of the 2015 F1 Tipping competition. Montoya32 took the lead late in the season and held of challengers by just a few points to win by 5 tips!
Prizes have been delivered to the top 3 this year with an exclusive collector card, thousands of XP, hundreds of invitations and a handful booster packs being collected by our best tippers!

Tipping will be back again for the 2016 season, feel free to provide feedback and suggestions so that it will be bigger and better next year!

Thank you to all who participated and congratulations again to the successful top 3 finishers!
---
Collector Cards & Trading
There have been some improvements and bug fixes in the Card Trading system. Users can now request multiple cards when starting a trade, this matches the ability to offer multiple cards.
You will now get a warning if you are offering, or having requested from you, your last one of a particular card. You will get a text warning, the trade weighting will be darkened and the value of the card you're trading is heightened.
You can now see the your quantities of the cards involved in the trade, click on the serial and see your quantity in the pop-up.

Finally, your search filters, when browsing your, or another users' collection, will continue to apply, even when browsing back and forth between pages.

Bonus, new user verification and account set up has been tidied to get rid of a bunch of cosmetic issues.

You know the drill, find some problems? Have a suggestion? Please get in contact either via the Report Error link at the bottom of every page, or via DarcyF1 Messages.
---
IP Bans, DRS Update & New Privacy Features
1. There have been some recent attempts to attack and or degrade DarcyF1, and as such I have banned a couple of blocks of IP addresses from accessing the site. If this accidentally blocks you.. and you're using an alternate IP address to access the site to read this message.. please contact admin to report your IP and it will be unblocked.
2. I left a bit of testing code in one implementation of the Delay Results Spoilers and as such some members (namely, everyone besides admin..) would have had inconsistent videos still displaying. This has now been corrected. Please report if you find videos that you should have blocked.
3. I am implementing a new privacy option for video uploaders, who can limit who can view their uploads. While still in testing, this may affect your ability to view videos, as always, please report if you find a video you can't access but previously could.
4. Bonus. Thanks to a member's bug report, User Walls now display comments cleanly once a commented video has been deleted.
---
Block results spoilers!
Launched last week, you can now hide videos that could spoil racing results! By editing your user preferences, you can choose how long to delay clips appearing for yourself. Going to be out when the race is on? Block spoilers for a few hours. Local broadcaster not showing the race until tomorrow? Block spoilers for 24 hours. Away for the weekend? Block spoilers for 72 hours. You choose how long to delay the appearance of clips for, and you decide when to adjust and turn it off.

Again, this feature is available via User -> Edit Preferences, and is referred to as Delay Result Spoilers, DRS for short.
---
New Features!
While I spend a lot of my (very limited) development time these days squashing bugs, today I implemented two often requested features.
The first one was a relatively simple change, users can now log in using their username OR email address. All users will still maintain a username and email address, and users can continue to log in using their username, but the option is now available to log in via email.

Secondly, and more interestingly, is a tool to help you avoid spoilers! You will now find a new function on your Preferences Page that will let you set an hour value. This will prevent newly uploaded video from the current season appearing ANYWHERE on the site for you, until they have been online longer than the delay hours you choose.
For example, you could set your Spoilers delay to 24 hours, and then you safely browse the site during races knowing that live clips won't pop up and ruin your result, and within that 24 hours, you might be able to watch the race.
The spoilers delay does not hide Full Races or other sessions, as the spoiler control around them is very tight, plus, how else would you know the race you've been hiding spoilers from is available?!

I've given this a cute name of Delay Results Spoilers, so that I can use this graphic
that will alert you if you have left your spoilers protection on, and you are wondering where all the up-to-date content is! Keep an eye out for it next to your username and XP value in the header - it will only appear when you've set a spoiler delay value.

As always, questions, problems and other feedback most welcome! It is suggestions like these that make features like this get to the site!
---
Password Resets
The password reset tool was broken for the past week but has now been repaired and is working again.
---
Database Migration
My webhost are moving the database that DarcyF1 lives on. There will be downtime of between 5 and 30 minutes somewhere within a 12 hour window that begins at 4am Australian Eastern Daylight-Savings Time (AEDT).
UPDATE - This is now complete.
---
Card Trade Weighting Adjustment
A quick but important change to card trading. If the card being requested from you is your last of that particular card then you will be alerted in two ways. When you click on the card serial, you will now see your quantity of that card, plus an alert if it is your last one. As well you will notice that the trade weighting colour will be darker to alert you to the same fact.

To couple with this, if someone is requesting your last of that particular card, the card weighting will be increased.
---
Authentication and Access Updates
Two big improvements to logging in (password security) and contributor access (unmoderated uploads) have been finalised. These changes have been built into the site for a while, but today I have removed the legacy settings. If you encounter any issues with logging in, changing your password or recovering a forgotten password, please email admin. If you have any issues with uploading, or accessing uploader features, please message admin.
---
August Donations
All, the August hosting bills have been paid personally, and all your generous donations have been forwarded on to a much better cause, supporting Justin Wilson's daughters.
http://www.wilsonchildrensfund.com
---
Categorisation Overhaul
I have spent a few weeks changing the way Upload > Submission works and looks. This has been done to utilise large scale re-categorisation of videos. As an uploader you may see an increase in the amount of videos placed onto your Submissions page. If your videos require re-categorisation, they will stay published on the website until you correct them. Once you edit them, they will automatically drop off your submissions list.

Further more, some categories are now being structured, for example, when browsing popular categories, the races are now ordered by correct chronological order, races without videos are still listed, and non-championship races are identified, and extra categories are simplified. This will be rolled out across popular categories, but given the manually intensive work.. this will take a fair while.

One final change includes the streamlining of races where a category visits a venue twice in a season, suffixes like _1 or _II are now hidden from view, and once the round numbering is applied, the correct round number will identify the instance being referred to.

As this is a big shift forward, all feedback, bug reports etc are appreciated.

Finally, a bug fix that now allows uploaders to view their videos' Edit Logs again.. which apparently has been broken for some time.
---
Alerts
I have re-arranged the way that alerts are displayed throughout the site. Gone are the Home page 'personal news' and the flashing message count from the header. Now, all alerts are harmonised in the menu bar. Menu headings with alerts will display an alert count for all links within each menu item, and each menu item will have an individualised count to show you that there are items needing your attention.

Existing alerts moved to this new system include; Forgotten to tip alerts (which now only trigger two days before cut-off), unread messages, video uploads not yet categorised, uploads pending correction.

I am also adding some new alerts to take advantage of the new system, such as unopened collector card booster packs, plus some other future advancements in the works. With booster packs now triggering their own alerts, you will no longer receive an accompanying message when you earn one.
---
Search Update
I've spent a few hours updating, fixing and cleaning the video search function. Now, when you click the upload count on any user's profile, you'll ONLY see videos uploaded by them - this is reverting back to the way it used it be - there are many reasons for clarifying that part of the search function. Usernames will soon be stripped from all video tags by default.
The browsing buttons (previous, next page etc) have been cleaned to remove empty variables and depreciated search functions.
Ranked up members will notice the ability to search for HD content has been corrected.
The search tag cloud has been rationalised with more relevant results. Many little changes there, but you should notice an overall improvement of what's presented. Note that the popularity thresholds for larger tags has been increased to match the site's increasing popularity.
---
Full race browsing error
You may have noticed that when browsing Full Races, the 'Next Page', and page number buttons would browse to clips, and not more full races. Basically this was a coding oversight given that I hadn't expected more than 10 'full races' per event. However, with more categories uploading their races to YouTube, some of our 'Other categories' have exceeded this assumption.

Long story short, it's been corrected - please let me know if you see unexpected behaviours.

P.S: I'm back online from my relocation!
---
Admin Offline
All - for the next week or so I am packing up my life and moving across the country. During this time I will be online only sporadically. Approvals may be delayed, no new content will be provided etc. I anticipate being back up to speed around mid June.
---
Established Members - Shape the Future of DarcyF1
Please read on in the forums.
---
Latest Chrome Build Disables Java
Users of the Direct Upload tool may have noticed that the latest build of the Chrome browser has dropped support for the NPAPI - long story short, this prevents ALL java applications (and other tools) on ALL websites from loading.
Java have published an article how to work around this. https://java.com/en/download/faq/chrome.xml#npapichrome
---
Upload from DailyMotion
The Upload from YouTube page now supports DailyMotion and Vimeo links. This is still Work-In-Progress but please try it out and let me know if you find any issues. The input field will identify if you're pasting in a YouTube, DailyMotion or Vimeo link and do the rest.
Visitors who have not logged in will be able to browse all three kinds of embedded videos.
---
Categorisation Rationalisation
Over the next few days, weeks, maybe months, I will be moving clips out of the 'Other Categories' category and into their own main category. Any of the miscellaneous categories that have more than 100 videos in them are up for review.
---
Happy 11th Birthday!
Today marks 11 years since DarcyF1 was created, a reminder to thank you all for the enjoyable community you have all helped create
---
Admin Away Again
Yes, again I will be away for the upcoming weekend (Qatar MotoGP, F1 Malaysia and Tassie V8s) and as such any clips from me will be delayed.
Furthermore admin functions such as approvals may be delayed.
I will return in my regular capacity on April 1st.
---
Admin Away
Please note that I will be attending the Austrlian Formula 1 Grand Prix so site updates, including video uploads will be delayed from me until Wednesday.
Admin approvals may be delayed during this time also.

I invite you to follow darcyf1 on Twitter for trackside updates, www.twitter.com/darcyf1
---
Requested Updates
I really do like receiving suggestions from members for features that they would like to see. And because I'm so busy, they can take a while to see the light of day, but today 3 of them have made the site.
The Current Events page, that shows videos uploaded from 2015 events in reverse order of upload, has now had quick video details added below each video. For videos hosted on DarcyF1 you will now see file size, video duration and views plus comments counts, while YouTube embedded videos will show the views plus comment count.
Next, the Messages system has been updated to allow users to delete messages they have sent before they are read by the receiver, great for retrieving those typos!
Also, if your account is rank 5 or above, you now have the ability to 'pin' messages. This will prevent your important messages being deleted after 28 days.

As always, if you have any questions, or your own suggestions for new features, please let me know.
---
New Collections Page
The Collections page has had a major makeover as the popularity of Collections increases. The new page resembles the familiar way your browse videos throughout the site and provides some extra detail like total collection size and duration and when the collection was last updated. You can also see, at a glance, which user created the collection as their avatar is now displayed with the collection.
In addition to the new visual representation of collections, you can now search for collections based on the name of the collection, helping you find collections that interest you.
One slight modification to the Collection system is that site moderators can remove collections. This has been brought in to remove collections created by retired users, and collections that either serve no purpose or have had all their videos removed from the site.

While managing your collections, you can now re-order the videos within the collection, by browsing to your collection and clicking the up and down arrows next to you video.

A reminder that you can start your own collections by clicking the 'Add to' button under each and every video on the site.

As always with any new feature, please report bugs, suggestions, etc to the admin.
---
User Preferences Fault
All - there are a subset of users who will have lost their chosen avatar. Affected users will be able to upload a new image when they choose. Users who have lost their avatar will have also had their participation settings reset to defaults, again you will need to correct these.
Also, ALL users who registered for F1 Tipping 2015 will need to re-register. If you had already registered for F1 Tipping, your Participating preferences have been reset to defaults and you will need to correct these.

This has only affected a small subset of users, and was caused by a code error that was writing data to incorrect attributes. Please contact admin directly if you need any further information or encounter related issues.
---
DarcyF1 Adds SSL Security
You may have noticed that darcyf1.com is now protected by SSL technologies. This means that you can now be sure that you are communicating with DarcyF1 servers at all times, and that information that you submit to the website is encrypted. If you encounter any issues with the new security measures, submit an error report using the 'Report Problem' button on the bottom of each and every page.
---
Plans for 2015
Members, please take the time to read about my plans for the year ahead.
---
Happy New Year
Yes, I may be a little late, but today is the first day in over a month I've managed to put some effort into the site, and most of it is preparing for the new year.
The F1 Tipping competition has been readied for the new season.
There are already 3 new DarcyF1 collector card sets ready to drop, including one starting tomorrow and continuing, by dropping new cards (including one new MEGA rare card) every day for 10 days!
Plenty of small bug fixes around the place too, hopefully you won't have noticed the bugs and thus won't notice the fixes.

As always, please report bugs and send your suggestions on through! Here's to another huge year on DarcyF1.
---
Interface Updates
DarcyF1 User Pages have been updated significantly. This is the first step towards a larger functionality upgrade. But for now, check out the new look @ Profile, User Page.
Users who have not yet uploaded an avatar have a new 'default avatar', this is simply a little cleaner and higher resolution to suit new interface elements.
As a side project, when opening your DarcyF1 Messages, the most recent conversation will be displayed automatically.
---
USA GP Tipping Closure Errors
There was a misconfiguration causing the U.S. Gp tipping to close early. This was changed and tipping re-opened for 12 hours prior to qualifying started. However, when qualifying started the tip lockout didn't occur. From this point forwards, some users altered their qualifying tips to match the actual result. Those users who exploited the bug have had their qualifying tips removed completely.
---
Saturday Bug Hunting
A few things tidied and added today, including; Log In errors failing to be displayed. Banned users still able to register new accounts. Czech commentary language added as an option. User page error reporting fine tuned, including correct error messages for accounts that do not exist or are not active. Placed in protection for users who somehow post the 'Comment Posted!' alert as a comment. Furthermore, the inability to comment on videos that these updates introduced has been corrected.
---
New Users Unable to Upload
It turns out that for the past couple of months, new users who signed up to the site were missing the uploader privilege from their account. I have now corrected this both for new users, and users who had signed up recently. Please contact me if you still lack the ability to upload videos.
---
Recent Downtime
As you probably noticed, DarcyF1 was inaccessible for the last couple of days. In summary, this is was because the Bathurst coverage caused so much traffic that it impacted on the network stability for my webhost, and they had to disable the connection. I apologise for the downtime, but glad to be back with you now, and thank you for the support!
---
User preferences bugfix
There was a very tiny change to the way that user preferences are parsed by certain features on the site. This affects the ability to upload videos, enter competitions, participate in F1 Tipping and find collector cards. If you are having issues with any of these features, please contact admin.
---
Video Download Page Adjustment
Due to a refining of HTML standards, I have had to adjust a few width issues on the Video Download page. Because of this you might notice a thinning of the chat box, comments or related video areas. If you encounter any issues which prevent you from using those features, please take a screenshot and send a message to me.
---
Hotmail Email Address
If you have recently tried to register with a Hotmail email address, or already are a user and have a hotmail email address registered against your account, it has come to our attention that hotmail does not accept email from DarcyF1. You will no longer receive any emails from DarcyF1, and you will be explicitly prevented from registering with a hotmail address until this problem is rectified on Hotmail's end.
---
A rare update
Firstly, a quick personal note. I have exceptionally busy with BIG real life stuff lately and as such haven't been able to pump as much effort into the site as I'd like. Note that I am still moderating the site at least every 12 hours, but site enhancements, bug fixes and non-live videos uploads of mine will be delayed.

Having said that.. a new feature I've had in the pipeline for a while has gone live. DarcyF1 Users' Video Collections, or simply 'Collections' displays an easily accessible list of Collections that users have made. You know the ones, when you're on the download page for any video and you click the 'Add to' button! Now each of those will be published automatically to this page, and be ordered with the most recently updated collection at the top.

As usual, all feedback, including this new feature is encouraged.
---
Copyright Takedown Notices
Many users will have received notices that their video have been removed due to takedown notices. As a visitor, you will notice a significant reduction in available videos due to copyright infringements. Visitors are also no longer able to upload content to the DarcyF1 servers.

The ability to link videos from YouTube and categorise them on DarcyF1 has not changed. Further legitimate video hosting sites will be added in the near future.

DarcyF1 is changing, but we hope that these are positive changes that still allow you to easily locate the legitimate videos you are looking for by collecting and categorising uploads provided by official distribution channels.
---
Midweek Updates
It's not too often I get time to work on DarcyF1 during the week, but here are some updates I've had in the pipeline for some time.
When trading DarcyF1 collector cards, you can now, at a glance see the value of the trade you're weighing up. In the trade market you will see a graphical indication of the value of the trade.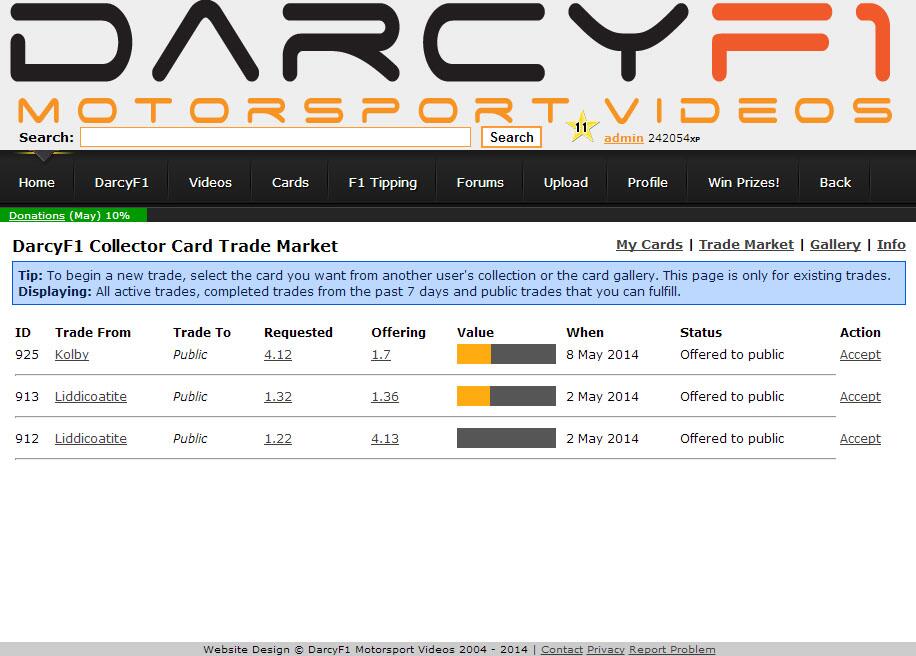 The more orange, the better value the trade is for the person accepting the trade. Half orange, half grey is a perfectly equal trade. This is calculated using the rarity of the cards, and the amount of that card already in circulation.

The thumbnail creation page has had a tidy up. Your thumbnail choices will now be the correct dimensions, and larger to fill the available space. Many bugs and code inefficiencies have been corrected too.

You can now subscribe to searches! For example, don't want to miss Crutchlow's latest crash? Search for the sort of video you want, hit the subscribe button and every time a video is uploaded that matches your search terms, you'll see it right there on your home page!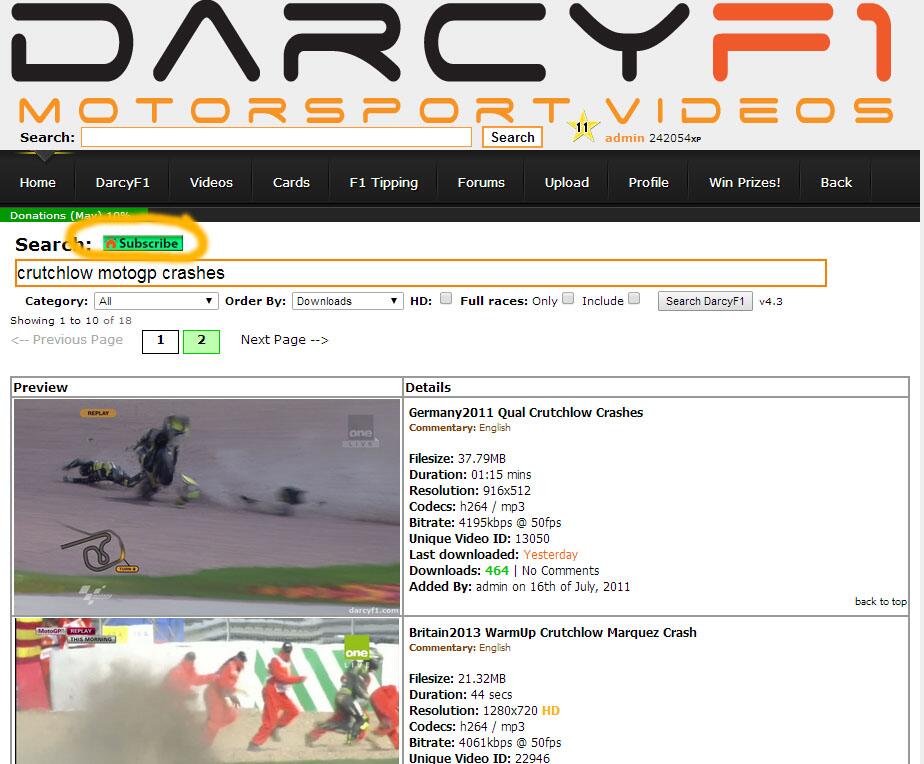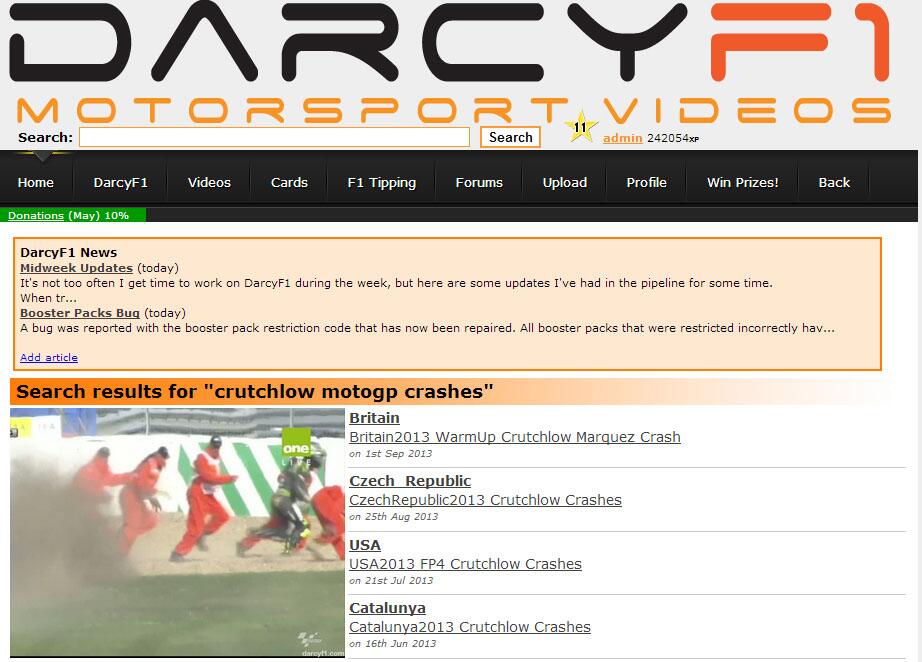 Finally, the way that the video browsing pages (Videos > Clips & Videos > Full Races) handle 'Misc' videos has been changed significantly. This is part of a larger change to enable easier browsing of the Misc videos. There are huge problems to fix with how some uploaders abuse the 'freedom' of the Misc category, and there is work in the pipeline for that too, but this is first major step to fix the problems I've had with 'Misc' since 2009! Advice, feedback and suggestions are most welcome. Keep in mind this is work in progress.
---
Booster Packs Bug
A bug was reported with the booster pack restriction code that has now been repaired. All booster packs that were restricted incorrectly have now been gifted to those users affected.
---
Full Session Upload Restrictions
To ensure that server resources are not wasted, the forever unpopular practice and warm up sessions are being removed from the site. No further full practice or warm up sessions will be removed. Only full qualifying or race sessions will be allowed.

I am also removing a variety a very large full race uploads that aren't popular, these include over-the-top bitrates and HD races.

This is all being done to combat a filling server, and I am prioritizing resources. This is obviously not a decision I take lightly, but either the site keeps moving into the future, or we fill it up and it will slowly fade into the past.

I understand that a few users will lose a few videos that they have worked hard to provide to the website. About half the videos marked for removal are my own uploads, but please be assured this is not a punishment or indictment on you or your work. Cuts had to be made, and we'll move forward.
---
PHP Upgrade 5.4
I have upgraded the PHP version that the site runs on. I have also rotated a very important database password. Both of these updates have the potential to cause huge problems. I have done as much testing as I can squeeze in, but if you encounter any errors, please report them immediately.

Related bug fixes
• Logout page was not destroying the cookie due to an attempt to modify headers after they were sent.
• Log In page was not connecting to the database correctly due to expired credentials.
• RSS feeds were not connecting to the database correctly due to expired credentials.
• The My Uploads page was not providing the auto-fill data for the race value due to expired credentials.
• Torrentflux broke, completely. Have stood-up next-gen torrentflux for those members who use torrents to upload to DarcyF1. It's probably very buggy, will remain a work in progress.
---
It's Saturday Morning - Weekly Updates Time!
First off this morning, it's now much simpler for existing videos to be unlisted from the website for review by a moderator. In the past, a user might be asked to edit an existing video via messages, but their video would remain published until that happened. Now, moderators can unlist these videos until the uploader has corrected their video.

Collector card limits have been adjusted. The most you can hold of any card is 9. If you trade or gift away some of these cards, you can continue to earn them again until you reach the threshold of 9. There is now also a limit on booster packs, you can only earn a maximum of 7 booster packs per week. Gifting or trading away these booster packs will not reduce your count for the week, once you've earned it, it counts towards your weekly goal.

Users can now Edit Preferences and choose to not participate in giveaways and other competitions. The only difference you will notice is that you will not receive entries in any active competitions.
---
More bug fixes, more user preferences, bad uploads
Along with a range of small bug fixes, users can now join and withdraw from F1 Tipping via the Edit Preferences page. Also, users can choose not to participate in DarcyF1 Collector Cards. Not participating means that you will not collect any further cards. In the future the ability will be added for you to throw away or gift away all your cards.

Recently there has been cases of uploaders downloading videos from YouTube and re-uploading them here. A reminder that doing so is prohibited. As is downloading other people's videos and re-uploading them without credit. Reports against such videos are strongly encouraged.

F1 Tipping pages have had a refresh, hopefully they are a little easier to use!

Logging in, registration and user bans have had an update too.

As always, please let me know what you think. What do you like, love or hate? What would you like to see added to, removed or changed on the website? It's your feedback that helps build this website!
---
Grand Prix Week
I will be attending the Australian Grand Prix this weekend, and as such will only be attending to the site on an infrequent basis from now until this message is removed.
Approvals and reports will take longer to be seen to and I will not be uploading any live clips over the weekend. I'm sure others will step up and supply content in my absence.
---
Invites, Messages, Pings Bug Fixes
As per most Saturday mornings, I have run through some more bug fixes, as following.
Users were not receiving messages when other users commented on their videos - fixed.
Invitation emails included a faulty link, meaning that invitation codes were not being redeemed - fixed.
Users were not getting enough information when they were mentioned in video comments - messages will now include a link to where the ping took place.

Also, some small updates include a large refresh of the video download page, only small cosmetic changes but hopefully it's an improvement. Video uploaders, your 'editing' menu is now hidden under a smaller 'Edit Details' link.

And as always, keep reporting those bugs and I'll get around to them as soon as I have the time!
---
Invitations & Preferences
Invitations are back and more rewarding than ever! Both the inviter and the invitee receive XP, competition entries and a booster pack! Introduce a friend to DarcyF1 today and cash in!

User preferences have been updated and are now included in the menu system. You can now filter out messages you don't want to receive. Don't want other users to message you? Don't want to hear that your upload has been converted to flash? No worries! Select which message types you do and don't want to receive to ensure you only get the content you want to read!
---
Bug Fixes & Public Card Trading
Multiple bug fixes - competition entries were unavailable for about 24 hours. I have manually given entries to those who earned donated during that time.
Public card trades were also malfunctioning, only one of the parties would receive the cards they traded. This too has been fixed, and broken trades have been corrected.
Finally, all trades now expire after 7 days. This was mainly to prevent ridiculously unappealing public trades from hanging around for ever.
---
Public Card Trading
You can now offer a trade to EVERYONE who has a certain card. When viewing cards in the card gallery you can click 'Make an offer' which will let you offer up 1 or more of your cards to every user who currently holds the card you are after. Any one of them can accept your offer, but once it has been accepted by one person, it is off the table for everyone else. Be sure to be checking your 'My Trades' often so you don't miss a potentially lucrative public card trade!
---
Weekend of Bonuses
This weekend (Feb 1 - 2) is double XP, increased collector card odds and booster pack giveaway weekend! Top 25 card collectors have received a booster pack. This is the weekend to get your numbers up! With two new card sets released over the past week, it's time to rake in some cards and with new seasons of motorsports approaching there's no better time to increase your rank and XP so you can access all the site's features!
---
New Menus
As you have probably noticed, I have updated the menu system and darcyf1 header. The main driver behind the new menus is make them more touch friendly, so you can now navigate the menus on a touch device (finally!). I've taken this opportunity to re-arrange some menu items. This has been done to make popular items quicker to find, and to promote some lesser known items too. Collector cards have been broken out into their own menu.

The header has had a refresh too. The Log Out link has moved into the Profile menu, while the Messages link has been smartened to only appear when you actually have new messages (not to worry, you can still access your messages from the Profile menu). It will now be easier to see that you have a new message - just wait until you received one, you shouldn't miss it! Your username and rank star have also been improved for readability.

As always, let me know what you think or if you find any bugs with the new updates.
---
Donations & Collector Card Trading
Until the end of January, all members who donate will receive a booster pack of collector cards. This guarantees you a rare or mega rare card, plus 5 other cards to boost your collection.

The collector cards system has been upgraded to allow you to collect multiples of the same card. Doing so will help you have surplus cards that you can trade away for cards you are missing.

When you view card galleries now, cards you don't have will be greyed out to allow you to quickly identify what cards you still need to complete that collection!

Likewise, when you are offering up trades to other members, the cards that you have duplicates of will be highlighted so you can see which cards are easily expendable!

Finally, there is a DarcyF1 Collector Card Baton card. This card is a very special card. There is only one baton card, and as such, only one user can hold the baton card at a time. Holding the baton card isn't useful, but passing on the baton card is! Every time you pass the baton card to someone who hasn't held it, you will collect the Baton Pass card! This card encourages trading throughout the community. You can check who has the Baton in the card gallery.
---
Collector Card Trading & Gifting
You can now both gift and trade your collector cards. Make a trade before the end of January to earn an special card. Get trading to complete a set to earn a completion card. More information.
---
Log In / Registration Bug Fix & Comment Reporting
There has been a long standing bug that was repaired recently. This has unearthed another bug which has now been fixed also. For some time, all user registrations were saved to the database in lower case, and users could log in using any capitalisation of that username.

Now, you must log in with the correct capitalisation of your username. This means that users who registered while usernames were being stored in lower case my have an issue. Please contact me and I will manually correct your username to match whatever case sensitivity you like. Also, please let me know if you have any further questions about this change.
Update: When you log in, the script will update your username to whatever case you use. Ensure to continue using this casing when you log in in the future.

Users can now report user comments. Comments can be reported for whatever reason, but this was mainly built to protect against spoilers. If you see a spoiler, use the report button to report the comment. The comment will be hidden until a moderator checks the comment. Users can choose to reveal the comment if they wish.
---
Happy New Year & Start Collecting
Happy new year! At least, to those in the world whose timezone has passed into 2014! Once GMT moves into 2014 our newest site feature will go live!


Introducing DarcyF1 Collector Cards!

Collector cards are a fun way to browse the website and cement your membership on the site. You will discover collector cards by browsing the website as your normally do, and you can earn cards by participating in limited time giveaways and promotions. Cards vary in rarity, design and obtaining methods. After some time, card trading and gifting will be introduced enabling members to complete sets of cards. Until this time, members will only be able to collect one of each card.
For all your collector card information visit the info page.

There have been a limited amount of cards available over the past 24 hours as a BETA test and a dozen members have already collected some of these. When you collect a card, it is immediately available in your card collection, visit My Cards to check on the strength of your collection.

Once the clock (GMT) ticks over to 2014, the amount of cards available will double, including the introduction of 'full art' cards that are 'mega rare', meaning you only have a 1/1000 chance of discovering one. Good luck!

If you have any questions, send admin a message or head over to the forums where a new board has been dedicated to collector cards. You can also check out other users' collections by clicking the link on their user home page.
New cards and sets can be added at any time, and especially to celebrate events. AND, we would love to see some user generated cards, they can take any shape or form, get creative (more information on the collector card info page).
So, get collecting and let us know how you go!
---
Bug Fixes
A short note to inform you that a couple of major bugs that were reported by users have been fixed. Use of the [ page ] tags was malfunctioning if multiple sets of [ page ] tags were used in one post. This would cause pages to stop loading, and the comment itself not being displayed.

This bug has now been fixed, and you can use as many of any comment tags as you like.

Users could log in with any capitalisation of their username which would cause mismatches around the site, most notably with F1 Tipping with their scores being attributed to two different entities. This has now been fixed.
---
Win with DarcyF1 Donations
Make a donation before the end of the month to win Codemasters F1 2012 PC game. All donations made during December that are greater than $1 go in the draw to win. You must claim your donation via the Donations page so that I know which account is the winner!

If you have already made a donation during December, you are already in the draw to win.
You can continue to donate once the monthly donation target reaches 100% and you will be entered into the draw.

Each DarcyF1 member will only be entered once into the draw once during the month, regardless of the amount or gross total of donations made to the site.
Winner will be drawn January 1, 2014.
---
Back on deck
I'm back (and awfully tired!) so you can expect soon-after-live clips and the fastest full races for all the categories I usually cover from now on. First on the list of things to do are DarcyF1 bugs, followed by 5 weeks worth of catching up, so expect some clips from the last month or so appearing over the next week.
---
F1 Tipping 2013
Short note to say congratulations to metallica101 for winning the tipping competition this year. Also note that there are a few end of season errors, like the site telling you to tip for a non-existent round 20. Please ignore these and I will fix them upon my return home. I also have to verify scores from the last round, but I can't do that until I am home either, so some positions may change.
Last but not least, there are a few bugs with tipping that need to wait until the end of the year to iron out, so over the off-season I will be doing that. As always, feedback, critique or suggestions are always welcome and I hope to see you all tipping strongly again next year.
---
Almost Home
For the first time in the approximate 10 year history of this site, I'm going on a holiday. I'll be away until December. I'm thankful this community has grown to the strength that it'll mostly take care of itself. There are uploaders around the world covering a range of different categories. It is these people who are so generous with their time that the site will continue to function close to normal as per normal. A big thank you to those who continue to support and contribute to the site. A special thanks to Nubbin who has generously agreed to cover some the more popular full race uploads while I am away.

I will still be logging in to the admin console on a semi-reguarly basis, but please be patient with upload approvals, error report inspections and such, as I might be a bit caught up in enjoying my first serious holiday in quite some time instead of tending to the site.

If you have any questions regarding the administration of the site, please send me a message via the DarcyF1 Messaging system and I'll get back to you when I have time.
---
Reminder
For the first time in the approximate 10 year history of this site, I'm going on a holiday. I'll be away until December. I'm thankful this community has grown to the strength that it'll mostly take care of itself. There are uploaders around the world covering a range of different categories. It is these people who are so generous with their time that the site will continue to function close to normal as per normal. A big thank you to those who continue to support and contribute to the site. A special thanks to Nubbin who has generously agreed to cover some the more popular full race uploads while I am away.

I will still be logging in to the admin console on a semi-reguarly basis, but please be patient with upload approvals, error report inspections and such, as I might be a bit caught up in enjoying my first serious holiday in quite some time instead of tending to the site.

If you have any questions regarding the administration of the site, please send me a message via the DarcyF1 Messaging system and I'll get back to you when I have time.
---
Thank You and Please
For the first time in the approximate 10 year history of this site, I'm going on a holiday. I'll be away until December. I'm thankful this community has grown to the strength that it'll mostly take care of itself. There are uploaders around the world covering a range of different categories. It is these people who are so generous with their time that the site will continue to function close to normal as per normal. A big thank you to those who continue to support and contribute to the site. A special thanks to Nubbin who has generously agreed to cover some the more popular full race uploads while I am away.

I will still be logging in to the admin console on a semi-reguarly basis, but please be patient with upload approvals, error report inspections and such, as I might be a bit caught up in enjoying my first serious holiday in quite some time instead of tending to the site.

If you have any questions regarding the administration of the site, please send me a message via the DarcyF1 Messaging system and I'll get back to you when I have time.
---
Password Resets
There was a significant fault with the password reset tool meaning that all password resets were failing. This has now been corrected. If you were affected, you will need to reset your password again to regain access to your account.
---
A significant change in categorisation policy
As of now, can all uploaders please categorise MISC videos in the exact category the clips is from (for the race value). This is a complete change from the old method of Misc > 2012 > Touring_Cars, for example. I am currently building a better way of dealing with the increasing numbers of Misc categories, and it really make the most of that, it is better that we do away with the generic Misc categories (such as GT, Touring_Cars, Production_Cars, Sports_Cars, Open_Wheelers etc).

I appreciate the amount of work users have gone to in ensuring their uploads correctly fit into these existing categories, and if you don't want to put in the extra effort, you do not have to move them (yet). But for all future uploads, categorise them Misc > 2012 > HTCC, for example.
The Naming Conventions page will be updated shortly to reflect these important changes, and to remind you that sponsors names should not be part of category names - and yes, DunlopV8s will be corrected too.
---
Automatic Error Reports
Due to the underwhelming amount of users who report errors they find I have implemented a range of automatic fault discovery reporting for the most common errors that are found. These include videos missing thumbnails, download links and flash conversions.
This should not stop you from reporting any errors you come across - I'd rather see the same problem reported 10 times than not at all!
---
Message Purge
Oops and sorry. The first run of the script that removed old messages ran this morning (server time) and due an error with the script it removed ALL messages. The error has been fixed and will not occur again. Unfortunately, the error removed all the messages before the back-up script ran, meaning that messages sent before now have been lost forever.
---
DarcyF1 Messages
As you can probably see, there is a new feature on DarcyF1 - Messages! This system allows members to message fellow members without the need to expose email addresses or clog up video comments of forum threads with personal chit chat.
This also allows users to contact the admin more readily, or directly contact video uploaders if they have questions / comments / concerns.
Finally, this has cut down, and will eventually completely replace automated emails that are sent out to uploaders to inform them of the status of their submissions.

Keep an eye out for this icon which will give you quick access to your messages from every page on the site, as well as one click access to message other members.
As per any new feature, upgrade or change, please report any errors! Ideally, use messages to do it
If that isn't successful, the traditional Report Error button on each and every page is your go to place.
---
Alerts Decommissioned
The Alerts feature has been decommissioned as of now, as part of transition to a new messaging system. Please report any and all problems you may encounter.
---
Video Information
Some small updates to the way video information is displayed when listing or searching for videos. Full races now have a purple title to differentiate them from clips. For videos which are not standard, and for which the script cannot determine the bitrate, this is now displayed as 'Unknown' - previously this was just hidden. Finally, the frame rate of each video is displayed with the bit rate, to more accurately represent the quality of the video.
As always, feedback welcome and encouraged.
---
Refined Thumbnail Creation
For the (awesome) select few that upload videos to DarcyF1, you now have another tool available to you. When generating thumbnails for videos you can click the 'between' button which will generate you another set of thumbnails between two specific time points.

For example, if two of the equally spaces thumbnails seem to be either side (in the time dimension) of the action you want to be featured in your thumbnail, hit the between button and you'll see another 4 thumbnails closer to the specific point in time that you were looking for. Still not quite there? Hit the between button again until you can narrow it down.
The only limitation I have placed to this is that you cannot reduce it down to fractions of seconds - if you want to be that precise, use the upload thumbnail tool.

As always, feedback welcome and encouraged!
---
Major Tweaks
I have made a couple of small, but vast changes to the back-end of the site. Please report any and ALL bugs you find - there is a report problem link at the bottom of every page.
---
Invitations
Important! There was a HUGE bug with the invitations program. It has now been repaired and you can invite friends again!

I implore you to invite people you know to join the site. It benefits you (extra XP and extra invites) and it benefits them by giving them a huge headstart in rank and XP.

To be honest, I'm devastated that the invite system was broken so badly for so long and that many invitation opportunities have gone begging!

If you have any questions, or find further bugs, please use the contact page to get in touch ASAP.
---
Misc Videos
Uploaders, please try and limit the variation of categories used as race values when using Misc as the category. Lately, there has been extreme abuse of the Misc category, requiring hours of admin interception work. USE THE AUTO-FILL FORM instead of inventing your own values.
---
Reminder: Forums Now Open - Requests Migrated
The new DarcyF1 forums are partially open for business. If you're logged in, you'll be able to access some of the boards. Those who are ranked up will have the most access during this growing / testing phase.

Click here to visit the forums!


The requests page has been migrated over to the forums.
---
DarcyF1 Forums
Forums are back! And this time they are fully integrated into the website! If you are a member who is at least Rank 3, you can now access the test version of the forums - if you are going to use the test version of the forums, please be committed to report all errors and bugs that you found.

Members who are rank 3 or greater - enter the forum now.
---
RSS Feeds
You may have noticed, that over the past week I have been adding and slowly testing a new feature. RSS feeds are now available on many parts of the website, home page, user pages (for those who have uploaded videos), and when browsing the videos page at any level (by category, by season and by race).

These RSS feeds are dynamic and update as videos are added to the website. So you can subscribe to almost any level of interest you have, and then enjoy as updates are pumped out to your favourite RSS reader! As with any new feature, please report any bugs you might find.
---
Did you know?
Still about 1/4 of all DarcyF1 videos are yet to have a commentary language associated with them. If you're logged in, you can tell us what commentary language the video has in just two clicks - and you'll get rewarded with 3XP. This can be a very useful way of ranking up faster while helping out the community!
---
YouTube Uploads
Remember: DarcyF1 has made it easier than ever to upload videos to the website by letting members embed videos from YouTube. Simply past in a link and off you go! Click here to start today!

It can help you rank up to unlock competition entries, profile customisations, requests and much more.
---
Alert! - New Feature
I have just launched, in a kind of beta phase, the Alerts page. You will find a link to it in your username menu.

You can now receive notifications, known as Alerts when activity happens that youre involved with. Such alerts may include a user commenting on, or favouriting your uploaded video. Or a staff member approving a pending upload, or verifying a donation. If it directly affects you, or something you've done, you will be alerted.

A little icon will appear above the menus, next to Log out that will notify you when you have alerts!

As I mentioned earlier, this is still a work in progress and any bugs should be reported, AS ALWAYS! And things will get prettier as I start to see how it functions in the real world.
---
Bug Fixes
I have given the chat script a big work-over and it seems to be function a lot better. Still not perfect, but much more predictable now. This will fix up adding comments, and deleting comments on videos.

I have tidied up a lot of the default scripts that should mean better page load speeds around the site, however I might have broken the notifications bar (which was still in a testing phase and only on a few pages), so if you're missing notifications about things such as video uploads, bare with me, Ill have another go at fixing it another time.

A lot of fixes for the new YouTube feature across a lot of different pages, if you find any references to the old YouTube clips page anywhere, please report it.

Also, I have almost finished a new My Uploads page, so hopefully that will launch over the weekend if the racing isnt too eventful!
---
Your best chance to contribute
Unfortunately there have been a few people whose permission I thought I had to share their uploads on DarcyF1 who have since informed that the amount I was sharing was far more than expected. As such, I will be removing some content from the website over the next 24 hours.

This is your chance to make a difference - if you have a similar video to replace a video that you've noticed has gone missing, then upload it! If I notice, or you inform me that you've replaced a missing video, then I will award DarcyF1 giveaway entries (and kudos)!
---
YouTube Updates
ALL existing YouTube clips have been moved to My Uploads for the users who uploaded them. Those users can now add those YouTube clips to the site, or delete them if you wish. The YouTube clips link has now been removed.

There were quite a few early bugs which I have been fixing as they have come up. Please keep reporting them when you find them, and earn some entries into the next DarcyF1 giveaway!
---
YouTube meets DarcyF1
YouTube is now a true part of DarcyF1. In the past you had to put up with having your YouTube video as a crappy link on a page no one visited. Not any more!

When you upload a YouTube video, it behaves almost like a regular upload. You can find it while browsing categories, find it in search, find it on your home page etc.

I will retire the Videos > YouTube page in the near future, but figured I'd give you all a chance to pull your videos off there and put them onto the website.

I am aware the Upload > YouTube page is a little bit slow, and so is the Uploads > My Uploads page when uploading from YouTube, this will hopefully be fixed in the future. Until then, be patient.



Time to get uploading from YouTube!! Be aware, if you are not an approved DarcyF1 contributor, your YouTube uploads will have to be approved before they appear on the website, just like regular uploads.

Please report any errors / bugs immediately to admin[at]darcyf1[dot]com. Also, please let me know if you have any suggestions on how to improve this, or anything else!
---
Live Streams
You may have noticed over the past 24 hours there is a now a Live Streams link under the Videos menu! If you are a valuable member, and have ranked up enough you will be able to watch live streams of select racing events. You can also add links to more streams!

This is the last week to earn / discover entries for the March DarcyF1 giveaway. The prize is a 5 DVD set, with 5 years of Bathurst highlights! Don't forget to follow @darcyf1 on twitter for hints on how to earn / discover more entries!
---
WIN with DarcyF1
Some new features over the past couple of days, including a Current Events page with a very easy way to see all the videos uploaded over the past fortnight from the 2013 season of motorsport.
Also, when you're looking at clips from an event with full races, or vice versa, you will be notified of the fact there are related clips / races and where to find them.

And for the month of March, DarcyF1 is giving away a great DVD, 5 years of Bathurst highlights, over 15 hours of coverage - you can enter now! www.darcyf1.com/comp.php
---
Big Bugs
Two big user reported bugs have been squashed. Users should be able to change their avatars again.

Also, the URL Upload has been fixed again.. this one keeps popping up, so the quicker you report it, the quicker it can get fixed.

Thanks again for the bug reports - keep them coming!

Update - Dutch has been added as a commentary language option for videos. Also, videos that are listed under TV as the season will now not lose that option on the video editor page.

Keep those bug reports coming through!
---
Bug Fixes
Users with no avatars bug is now fixed. Their home pages will now display the default image which they can click to change their avatar.

Other fixes are to do with bad uploads. When they are deleted, users should be notified as to why their upload was bad. Also, when edits are made, then the video approved, it should now be removed from their pending submissions page too.
---
FTP URL Uploads
Users who have been using a the FTP to upload files and then using the Upload from URL feature will now notice much, much faster speeds. Also, the file is automatically removed from the FTP when you upload it to the site. If you encounter any problems with the new system, please contact the admin.

Please also note a password change for the Public FTP.
---
User Verification
There was a significant flaw in the user verification system where a new user wasn't informed of the success of their verification. Notably, this took months for someone to report.........

It is now fixed and new users will be guided through their account set up.

After attempts to vastly improve the URL Upload failed, I'll give it another go in the near future.
---
February Updates
Bug fixes

Video uploading from URL now confirms success.

Video Editor can now edit 2013 videos.

There are now new global site settings that can be manipulated by moderators including a 'maintenance header' image to inform users when updates are being made to inhibit false error reports while things are changing.

We're almost up to 10,000 videos that have had their commentary language identified by users, which is amazing, great work! Lets try and get those other 7,000 videos done too!

Remember, it's always a good time to suggest new features or updates and to report bugs and faults!
---
Squashing Big Bugs
Just solved 3 serious bugs that had been causing a few errors. (Insert usual rant about how if YOU don't report errors they may go unfixed!)

Firstly, users who were trying to delete videos might have had them returned to the website, as when you provided your reason it wasn't being passed to the moderator, thus the delete action would have been rejected.

Also, when you were making edits to your videos they weren't being logged into the Video Log.. I have now fixed that and it should be logging again. As such I have now updated the video log to inform users that some edit logs were missed.


The other big fix involves a moderator problem with approving / denying / deleting video submissions.


There is still a bug list of about 10-12 items that I hope to fix in the coming couple of weeks, but they are all relatively low priority. You may have noticed that the Donations bar broke, and I did fix this while I was on holidays and forgot to make mention of it in the news section, so that's what I'm doing now.

Finally on a very positive note, over half the videos on DarcyF1 now have a commentary language assigned to them, mostly thanks to the many users who are helping out by identifying a commentary track when they watch a video! Keep up the good work and earning that REALLY easy XP!

Lots of big things to come in 2013, and a few bug fixes too, as always! Stay tuned!
---
Crash of the Year 2012
And the winner is...

The start crash from the Formula 1 in Belgium Belgium2012 Start Crash Pile Up! Thanks to all who voted in this year's edition!
A close runner up was the start crash from the V8 Supercars at the Gold Coast, better luck next time rollover.
---
Last Day!
Today is the last day to get your votes in for the DarcyF1 Clip of the Year 2012! There is only one vote between the top two clips at the moment, so vote now to ensure your favourite crash wins!


In some very positive news, there are now only around 8,000 videos left on the sites that don't have a commentary language set for them, that's great work! Over half the videos on this site have now been assigned a commentary language, and most of that work has been done by the community, well done everyone!


We are suffering a few spaces issues at the moment, and if it comes down to it, the first videos to go will be the very unpopular full race videos - some uploads recently haven't been downloaded at all. So if you think a race is worth keeping, download it now before it's gone.
---
DarcyF1 Holidays
From now, the one man admin team that maintains DarcyF1 will be taking some away time from the website over the holiday period. I will still check in on the site probably daily at best, which means there will be slight delays in video approvals or any other admin intervention.
Unless there is a crucial error, no bug fixes will be written during this time. I shall return in the new year, back to full strength!
To all DarcyF1 members, have a great holiday break and I hope to see you all again next year!
---
Slow Page Loads
Unfortunately there was a one line script error on a small handful of pages which was causing very, VERY slow page load speeds. This has now been fixed. Two videos were accidentally deleted - those uploaders can re-upload those videos, sorry.
---
Crash of the Year 2012
Only a couple of weeks left to get your votes in the for 2012 DarcyF1 Crash of the Year - log in, click on the Vote button on any crash from 2012! If you can't find the crash you think is the best crash, upload it, then vote for it!
---
2012 Crash of the Year
Voting has now opened (a week later than I planned) for 2012 Crash of the Year! You'll find the voting button on videos from 2012. Get voting now, as votes close at the end of the year!

If you want to vote for a video that's not online, upload it and vote for it!
---
Tags, Subscriptions and Clip of the Day
The problem with some videos being tagged incorrectly has been fixed. Basically, users who were uploading videos which had poorly formatted filenames (seriously people, I'll say it once, I'll say it 100 times, uploading filenames with spaces in them is asking for trouble). This would result with some tags being omitted, however I have now implemented 'file names with spaces idiot proof fix' number 43... However, this is not a retrospective fix, so videos that are missing tags will probably still be missing tags - uploaders, you can fix this by clicking on Edit Video, then immediately clicking the Save button without making any changes.

I have made the subscriptions button bigger and brighter and now you also subscribe to Collections that members are making. As a side note and another 'wtf' moment, I am seeing users making collections of 1 video, or a set of videos that are already displayed as a set, for example, V8 Supercar races 2012... there is really no point when other users can just search for that and get a complete list anyway, just saying... wtf.


Finally, I have scripted the Clip of the Day feature now, so you will automatically get a pre-selected clip served up to you at (server time) midnight every day from now until February next year - enjoy! Keep an eye out for some exciting new features in the near future!
---
Clip of the Day
To help pass the time during the off season, I have implemented a Clip of the Day, which you are probably seeing on the home page now. I will try to add at least one exciting video to this collection each day between now and the return of racing in 2013 [V8s @ Adelaide will be the first major category back]. If you don't think there has been a clip uploaded on a day, make sure you are logged in and ranked up to make sure.

To enable this, I have built in the ability to subscribe to Collections. Although this is built into the home page, it is not yet on available on every collection, I shall do this tomorrow.

Speaking of collections, I have found that no one was able to create new collections - thanks for all those bug reports... of which there were none - another reminder that there is a Report Problem button on each and every page. Anyway, this has now been fixed, which it could have been weeks (months?) ago had I been notified.

So now you can make collections, and from tomorrow other users can subscribe to them.

There has been numerous other bug fixes tonight, I cut the list in half, so there are still others to go, and keep reporting any you come across, please.
---
More New Stuff
In a month of what feels like endless tweeks and updates, there is some more new stuff tonight. Users wanting to remove their videos from the website will now have to provide a reason - if you don't the video will not be removed. Any reason is fine, as long as it makes sense!

The user information displayed under videos has had a facelift - this will extend out to all other user information areas on pages like requests, comments etc in the future. As part of this, the stars imagery has been updated and rendered at multiple resolutions to help with display of stars in different areas including user page, user information boxes and the header info about yourself.

There has been some behind the scenes bonuses for members who are certain higher ranks, if you are rank 5 or above, might be worth checking out the User - Edit page to see what you've had unlocked. There are some more things coming next Monday, it's all built and ready to deploy.

Finally, we have had a few members elevated to the position of DarcyF1 contributor! Keep an eye out for those contributor stars to identify some quality DarcyF1 members.
---
Bug Fixes
When it rains it pours! 4 bug fixes tonight.
The DarcyF1 uploader is operational again after its down time during the Grand Prix this morning.

There was an 'unlimited XP' bug that a couple of users had been exploiting, that has been closed and those who cheated their way to high XP have had that XP removed and been temporarily banned.

The random video function has been broken in all modern browsers for some time, without it being reported. This has not only been fixed, but now runs better than ever.

Finally, the ranking system has hopefully been patched for good. If you notice any rank mis-matches, do let me know. I will be keeping a close eye on it still, to ensure those people who should be ranking up, are!


Again, unfortunately I found all these bugs myself, despite the thousands of unique users using the site while these bugs existed. If you find a problem with the website, report it! The link to report problems is at the bottom of every page!

One final thing - I still noticed a few hundred people still accessing this website with Internet Explorer. Depending on which version you have, you will be getting all sorts of errors, I'll just keep casually reminding you to get a browser than conforms to web standards.
---
User Accounts
All those unused accounts have now been removed, as the 3 months grace period has ended. In the future, users who have donated will not be counted as 'unused'. Also, I have noticed a lot of users who weren't being ranked up. I have now fixed this, and will monitor the procedure closely now to ensure that users aren't missing out on ranks they deserve. If you were stuck at Rank 1, check now and you should have been ranked up if you had the XP for it!


I have made a major change to some user database settings, major. If you find problems, they'll be pretty obvious, I fear - please report them to admin[at]darcyf1[dot]com


A further change is a little personalisation bonus for members who are rank 5 or above, as they can now add a homepage to their user account, they can link to whatever they like. Examples might be a personal website, facebook or twitter account. More enhancements that reward higher rank members are in the pipeline, and if you have any ideas or what you'd like to be rewarded with, use the aforementioned email address or website contact form to let me know!


Lastly, search has been upgraded to Version 4.3 with the ability to search for only HD videos if you so prefer. You will need to be rank 3 or above to use this feature.
---
Lots of Small Fixes
Upload page will no longer tell you your uploads have successfully completely if they haven't. It will alert you when the uploader has stopped, but this could be either because the upload has successfully completely, or you have stopped the download, or download has failed for some reason.


The links on the news page now actually link to the articles.

The requests page has had a couple of fixes - users who had a missing avatar would be assigned the previous user's avatar, that has been fixed and will default to the default image if none is available. Also, some request post titles were displaying as the uploaded request video ID, this has been fixed. Posts on the requests page now also have all the powers of video comments, so you can use those special tags like [ b ][ /b ], [ darcyf1 ][ /darcyf1 ], [ i ][ /i ], [ br ] and many more - all without spaces of course.

Video descriptions can now accept an apostrophe, this usually meant your description would vanish, all fixed now.

Users should now longer be able to register with neither spaces nor mixed capitalisation in their usernames - this is for a number of technical reasons.

Removed users no longer have broken User pages, they now have no user page!

The report an error page now has an extra drop down box specific to video error reports to help users describe specific problems - Unfortunately we still have users reporting video problems in the comments space instead of using the official reporting function.

That's ALL the public fixes for now, as usual, if you find any further problems or have some suggestions, please let me know and I'll put them on the list for the next time I push out a big bunch of fixes!
---
Unused Accounts
A week from today, user accounts that haven't been logged into for over 3 months will be automatically removed. This is an ongoing automatic policy that has been previously discusses. This time next week, the removal process will run for the first time.
---
Commentary Language Update
Triple XP on ALL commentary language suggestions made by members, cash in now! Users who are editing their own videos, changing the language on the video editor page will not gain you extra XP, but you can now do it, as I have fixed the language box on the edit page.
Also, later this month, unused member accounts will start to be culled from the website, so if you haven't logged in for over 3 months, and want to keep your account, now is the time to do so!
---
Commentary Language
Have you ever wondered how you could help DarcyF1 with little effort? Now is your chance to help out! All members, who are logged in, now have the opportunity to contribute to the website.

When you are logged in, and browse to a video you may see a new area asking you to identify the commentary language of the video. Simply select the correct language of the commentary and click the Save button. Your suggestion will be logged and you wont see the box again for that video.

After some time, I will average out the responses and you'll start to see this data appearing while browsing videos. By doing this as much as you can, you will help add another feature to DarcyF1.
Note: Usage of this system is logged and any clear abuse will result in action being taken against the member.

Help out however you can - you will even earn some XP, easiest XP ever earned on DarcyF1!
---
Frames Per Second
All videos will now have an automatically detected FPS value. Now users can see the frame rate of any video to help give a better indication of video quality before downloading.
---
Gold Coast V8s and Malaysian MotoGP
Clips from these events will be delayed as I will be offline this weekend.
---
Korean F1 Tipping
Unfortunately, the closing time for the Korean F1 Tipping round wasn't entered, and thus users could still submit tips after the start of qualifying. I have now updated the closing time for this race and the remaining races.
More unforunately, a few members decided to take advantage of this error and edit their tips after the start of qualifying, to match the actual result. These users have had their tips deleted for this round. The honest user who informed me of the error has had a 100XP bonus added to their user account.
---
Unused Private SFTP accounts removed
As per the notice 3 months ago, users who have not used their private SFTP accounts in the past 3 months have had them removed.
---
Subscribe To Users
You can now subcribe to users! Browse to a user's home page and if they have uploaded videos, you can subscribe to their videos, so that they will appear on your personalised home page. Also, each user will now see their own videos on their home page too, to enable easy access.
For the hundreds of users who don't subscribe to anything - now is the time to subscribe to something new!
---
Log In / Register / Forgot Password Updates
I have rebuilt a lot of the backend to the above features after a couple of holes were discovered in the process - if you are having problems using any of these features, contact admin[at]darcyf1[dot]com
---
F1 Tipping - Belgium
Formula One is back! Don't forget to get those tips in before qualifying starts! darcyf1.com/tipping
---
F3000 Section
I have manually moved all F3000 clips from the Misc category into the new F3000 category. There are about 120 clips in totaly, so I thought they deserved their own category. This includes all flavours of F3000 - international, euro series etc.
Video uploaders, please make sure your categorize your videos correctly, or they'll be sent back to you for correction.
There may some other category modifications in the near future to better tidy up the Misc category.
---
F1 Tipping Results - FINALLY!
The final (planned) part of F1 Tipping has finally been released - only 5 months later than expected.

You can finally now see everyone else's results - Hover over the F1 Tipping menu and click Results. This will bring up the list of results from the last round. You can also choose to view results from past rounds.
When the results are listed, simply click the score next to someone's name to see what they tipped and how they scored!


Also, Video Descriptions are back! I had no idea they had disappeared - again PLEASE report problems, otherwise I have no idea!
---
Video Edit Logs and Last Login
Two new features today, but you'll only benefit if you upload videos. The first of which is a small update which now logs a 'last login' time against a user account, this will be used in the future to remove stagnant accounts that are not used.

The bigger update is the release of the Video Edit Log. This can be accessed on your videos by clicking the Log on the video download page.

This feature lets you keep track of edits made to your video, whether by yourself of by an admin. This is useful if you want to know why your video was edited after your submitted it. You should use it to learn! We have had some great contributions lately from members who could well be upgraded to contributor status, but they continue to make terrible deicisions when uploading and catergorising videos. Please check the Log page to see what has had to be fixed on your uploads and use this information to improve future uploads and work towards DarcyF1 Contributor Status.

There is future scope to allow members to revert to older revisions.
---
Today is the Day
August 6th marks exactly 100 months since DarcyF1 was born - congratulations all on a fantastic 100 months!
---
100 Months of Motorsport
This month, DarcyF1 celebrates it's 100 month anniversary of being online. First online on April 6th 2004, August 6th 2012 marks 100 months of DarcyF1. To celebrate, it's double XP ALL month for all members for all activities. Also, we're aiming to raise $100 of donations during our 100th month. Now's the time to cash in on double XP and celebrate the 100 month anniversary - who would have ever thought this site would still be around after that long?!
---
F1 Tipping Trends
The Trending this Round section of the F1 Tipping page has finally been built. You can now see who the majority of users are tipping for. The percentage value listed is based upon the popularity of a driver against the position they're being tipped in. If a driver is tipped for P1, they are awarded 3 points, P2 2 points, P3 just 1 point. The percentage value you see, is that drivers total points against the total of all points. Confused? Good!
Check out F1 tipping today to see who is trending for this weekend's Hungarian Grand Prix (and who trended in the past!).
---
Site Updates
A few more updates that had been WIP for a while were pushed to the website today.

All users can now see all rounds of F1 Tipping, so they can tip in advance of any round, and also see their results from previous rounds. The facte that this wasn't already visible was an oversight from me, who had locked it down to admins only, which I had forgotten about, because I could still see it! Thankfully, 9 rounds in, someone finally contacted me - I say it all the time, but please, if you come across an error, even if you're not sure, please contact me. It's the fastest way I'll find out. Either email, or twitter!
The one month fase in period is over for user deletion. All user accounts that have been active for 4 weeks without gaining any XP will be automatically removed. The user is displayed a warning if they have zero XP - so if they can go a whole month without doing anything on the website that gains XP, good luck to them. The script ran for the first time a couple of hours ago and removed 260-ish accounts.
All users can now close their own accounts, again something that had been WIP for a while, finally turned on.
In related news, users can now be banned by an administrator. There hasn't ever been a need for this, as there aren't too many rules around here - but it now exists.

Members who have been getting auto-emails about video submissions, but have their preferences set to NO for receive communications from the website will no longer. If your contact setting is set to NO, then you will no longer get emails from the DarcyF1 auto-emailer either. You now have the options of changing your contact preferences to 4 different levels. All Emails will get you both types of emails, both from the auto-emailer, and those written by the admin team. Human Written Emails will get you only those emails written by the admin team, you will not get emails from the auto-emailer, meaning you will not get updates on your video upload status (approvals, denies, more info please, etc.). Automatic Emails will get you those aforementioned emails, but will not get the rare human written emails sent out to members by the admin team. No Emails is simple, you will not receive either human written nor automatic emails. As always, there will be the occasion that the admin team will send out an email to all members that is deemed very important, and you will still receive those (eg. the new user removal policy). Also, user triggered emails will be sent through (such as changing an email address).


F1 Tipping closes in a couple of hours for the German Grand Prix, get those tips in if you haven't already!
---
Spaces and Donations
I have applied a (hopefully more) fool-proof solution to the filenames with spaces problem - there will still be some videos and flash conversions that WILL NOT WORK! Let me know by hitting the video error button!!!
On a lighter note, donations have been great this month! Fantastic support by DarcyF1 members is greatly appreciated! You're keeping this site alive! 2TB of bandwidth per month doesn't come free - thank you so much regular donators
---
Spaces in Filenames
Some people are currently uploading files with spaces in the file names which is stuffing up a lot of things for them - a fix for this will come in a the next few days... until then, be clever, dont have spaces in filenames on the internet!
UPDATE - okay, now new uploads will be corrected, but plenty of videos uploaded lately will be broken - click those error buttons people!
---
Excuse the hiccups!
I have made a small, but important change to site wide scripts today, which have thrown up a LOT of errors I wasn't expecting - sorry about that. If you encounter any problems, please email admin[at]darcyf1[dot]com immediately with details!
I recommend logging out, and logging back in to help iron out some bugs.
---
Java Uploader Error & Tipping
There was a permissions problem with the destination folder, which I have just fixed. If you have started an upload in the last 48hrs, it will not have worked and you will need to start it again.
Also, get your tips in for the Britain Grand Prix at Silverstone!
---
Site Fixes & Upgrades
A few more fixes today. The user home page now links to videos correctly.
Tags are generated better, with no leading comma error which was causing a failure when displaying some tags.
Video descriptions have been fixed on about 40 videos that had gibberish in them.
And also, a nice upgrade to Search. This includes always displaying search options, as people seem to be able to completely ignore the Search Options button and not know how to refine their searches. The entire search field, and search options box has been renovated to take up less vertical screen space. Also, you can now search for only full races, no full races, or clips and full races.
The donations page has also had a small update due to users logging false donation claims lately (which was wasting my time) - also, we haven't had any donations for quite a while now, and the DarcyF1 balance has run dry, so please donate during July so that we can pay the July bill... I will be pushing this over the month if donations don't pick up.
The DarcyF1 uploader now purges broken uploads after 2 days, if you somehow have a file that takes longer than 48hrs to upload (how..?) then the java uploader might not be what you need.
A reminder that users with Private FTP accounts will need to email admin[at]darcyf1[dot]com to receive an update on their accounts before they can connect to their accounts.
---
Private FTP Accounts
DarcyF1 is no longer black listed by Google (after redirect link was removed). The exploit has been repaired. In an unrelated change, all users with private FTP accounts on the DarcyF1 servers will need to contact admin[at]darcyf1[dot]com to gain information about a small change that is most likely causing you to not be able to connect via FTP.
---
Malware Warnings
At some point in the last couple of hours, a redirect malware was added to DarcyF1. This malware has been removed and I have notified Google to remove the warning, so I'm waiting on them. Somehow I dont think their removal of warnings will be quite as fast as their adding of warnings. Also, the malware uploader has been identified and mitigations in place to stop it happening again. If you get a redirect to a non-darcyf1 site, please contact me ASAP.

No user details were exposed as a result of this childish hack.
---
Login Problems
Login / Logout problems from the last 52hrs have been temporarily fixed. A proper fix will occur over the weekend where the Login / Logout functions will be unavailable for an hour or so.
---
Faster Thumbnail Creation
An update to the thumbnail generator code has greatly increased the speed at which thumbnails are created. Single thumbnails are generated about 400% faster, while multiple thumbnails are around 1500% quicker!
---
Support DarcyF1
The website has been down recently. Please contribute a few $$ if you can, and if you'd like to see the site running fast and online!. The June target for donations has been quite disappointing (only 19%) so far, really hoping for a strong finish to the month so the bills are paid and DarcyF1 is online in July!
---
Lots of site updates
Plenty of small updates to mention!

Anywhere you can post now has small amount of BBcode implemented, tags such as [ br ], [ b ] (no spaces when using tags!) will work as you'd expect. [ darcyf1 ] 1234 [ / darcyf1 ] will link to a video on the site, while [ user ] admin [ / user ] will link to a user's profile. More of these to come after I'm happy these are working as expected.

Discussions about the new partner forum are well advanced and we can hopefully anounce something in the next week or so! Both DarcyF1 and the partner forum will have ways to connect between the two making for a combined experience!

A new policy starts today - all members who have been registered for a month but have not gained any XP will be automatically removed. Users will receive warnings in their Personal News (see below) when they have zero XP.

Personal news will appear for certain people at certain times. For example, users with zero XP will be warned that they will be deleted if they don't raise their XP. Or, if you are signed up for F1 tipping, and haven't tipped for the upcoming round, you will have a reminder in you personal news.

Two new About topics, Downloading Help & Gaining XP. Downloading Help will cover a lot of info I have to email out reguarly to people who don't seem to know how to use their web browsers! Gain XP was primarily written for new members to give them hints on how to increase their XP to avoid account deletion.

The video editor has had yet another update. This time, if you change any of the video details, the automatically generated tags will be automatically updated to include any new data (note that they will not remove any existing tags). Remember that tags are the only ways that people can search your videos. Important: have a descriptive video name, and a very descriptive set of tags. Video submissions with useless video titles will be returned to you to update.
Also, a bug fix for the user home page. Avatars will now be displayed if you don't have one uploaded. Simply click the default avatar to change it. I have!
---
Tip Now for European Grand Prix
Time is running out for you to submit your tips for the Formula One at Valencia this weekend, Tip now! F1 Tipping > Tip Now
---
Comment Posting
Comments posting should now be more reliable in periods of high demand on the server.
---
No Flash Improvements
Users who dont have flash player installed will now see a more streamlined Download page, instead of blank parts and other errors. Also, all users who upload videos now have access to the Edit page for their videos.
---
New Website Features
A few important changes to the website today, one of which is this news section, in which you are reading this.
Also, anyone can upload via URL now, if they have uploaded their file to the DarcyF1 FTP.
The main menu has been re-organised a bit, with My Uploads moved from the Username menu to the Upload menu. Log Out and Profile have been removed from the Username menu as these links exist elsewhere. Furthermore with the menus, if you have uploads ready to add to the site, or uploads that are pending admin review, the menu items will highlight to indicate that there are items there that may need your attention.
This brings me to the Pending Submissions link, under Upload. For users that aren't DarcyF1 contributors, videos need to be approved by an administrator. Before now this process was uninformative and hidden. Now, using this new page, users can keep track of the progress of the review process. Also, an admin may request more information from the user before it is approved. By default, uploaders will receive email updates in response to their upload progress, which can be unsubscribed from.
---